Sleep at Attrap'rêves allauch : description of the location
Datas
Chemin de la ribassière
13190 ALLAUCH
France
Tel : 06.88.43.68.25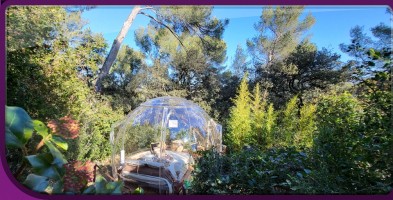 Datas :

Chemin de la ribassière
13190 ALLAUCH
France
Tel : 06.88.43.68.25

The place
Sightseeing tour
Our packages
How to reach us
Description of the place
A true Provençal pine forest waiting for you inside our area of 15.000m ². Spread over three levels with terraces here and there, our field is an invitation to a delightful halt.
A pastoral setting to relax, to feel alone in the world... Each bubble has its own private access in order to respect each other's intimacy.
If you're lucky, may be you'll see some little rabbits... or some squirrels eating pine nuts next to you...

Nice to meet you soon!
Check in from 4:30 to 7:30 pm / Ckeck out at 11:00 am.
10km from Marseille St Charles railway station, 30km from Marseille airport and 35km from Aix-en-Provence.
For information, picnic and pets are forbidden.
Children allowed from 6 years old only with additional charges.
Options
Sightseeing tour
Not so far from the Mediterranean sea, you will find a charming provençal village called Allauch for a tasty sweet break: do you like nougat?
Located at an altitude of 228 m , it overlooks the city of Marseille with a panoramic view of Notre Dame de la Garde. It takes only 15 minutes to go to Marseille, 30 minutes to go to Aix en Provence or to discover the famous village of Cassis.
Not so far away, Aubagne village: on the road of pottery and santon-makers arts.
How to discover our hills? By horse, by ride... Or on foot, during a theater excursion based on a Marcel Pagnol's novel... What an original and lovely experience!
Useful links
CONSTELLATIONS (bubbles or Lov'nid) Package
TO BE CLOSER TO THE STARS, DISCOVER THE CONSTELLATIONS PACK!
One night in one of our accommodations of your choice: bubble, Lov'nid, perched cabin for two people, under the sign of our 88 constellations...
As an optional extra, you can enjoy a 30-minute jacuzzi session (except for the outdoor Tahitian jacuzzi suite), as well as a massage session. The rates for these options can be seen in the tab our locations.
The moon at hand as if you were there!
Linen and toiletries provided.
French breakfast included.
Private sanitary facilities (shower, washbasin and toilet) for each accommodation installed outside in a wooden chalet.
One child accepted from 6 years old for the bubbles (extra 40€)
In the squirrel hut, a maximum of 2 children of any age can be accommodated (supp 40€)
Low season >
149 €
High season >
189 €
Prices per night shown in Euros.
YOU AND ME Package
TO SPEND A NICE AND ROMANTIC WEEK END, DISCOVER THE YOU AND ME PACKAGE!
One night in the unusual accommodation of your choice (except Aqua'Room) all year round for two people with a 30mn private Jacuzzi session and an Original Dinner with a bottle of wine from the Domaine de La Gayolle (red or rosé wine)
Here is the menu we propose for this pack:

Starter:
> gravlax salmon

Main course
> Fish greased  and ratatouille sauce/chicken with mushrooms and mashed potatoes

Dessert
> Tiramisu with speculoos
With this pack, you will be able to fully enjoy your unusual stay at Attrap'Rêves!
Bathrobes, towels, shower gel and shampoo provided. French breakfast included. Private sanitary facilities (shower, washbasin and toilet) for each accommodation installed outside in a wooden chalet (except for the squirrel hut with private sanitary facilities inside)
Low season >
299 €
High season >
299 €
Prices per night shown in Euros.

Additional information :
GPS : Lat. 43.3250317 / Long. 5.466694400000051
For information, the Ribassière street is a dead-end. Our area is located on the left at the end of the street.
By using this website, you agree with our use of cookies to improve its performance and enhance your user experience.